During Waterfest, between the hours of 12pm-4pm on Saturday, our small team of judges will peruse the Exhibition Area,  hand pick 100 VW's & Audi's and issue them special Golden Tickets.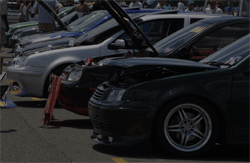 These 100 vehicles will be invited to participate in our Show Car Invitational to face off for the title of Afterfest's top dog.
All 100 Invitees will enjoy exclusive parking inside the Afterfest Show Grounds.
Once the voting is in, the top three vehicles will receive trophies and special prizes.

Please note: Your car must be entered in the Exhibition Area during Saturday's Waterfest show in order to be considered for the Afterfest Show Car Invitational.