Fast cars competing for a cash payout under the lights. Sounds cool, right?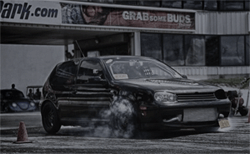 All Euros are invited to duke it out in this Drag Race Shootout.
There will be two classes:
♦ Index (11.50)  ♦ Outlaw
PRICING:
$50/car (includes 1 entry into Afterfest)

PAYOUTS: (Winner Takes All – Except where otherwise noted)

Dependent upon registration, here are the minimums:
♦ Outlaw (10 cars minimum)

($1,000 minimum purse + additional $50 per car above 10 car minimum)
♦ Index (11.50) (5 Car Minimum)($250 minimum + plus an additional $50 per additional car above 5 car minimum – Runner up will receive $100.)
PLEASE NOTE: All Vehicles must meet Raceway Park's Muffled Regulations.
All Payout Cars will receive a Stevebilt Payout Class sticker, which must be displayed on the car throughout the race. Any vehicle not displaying the aforementioned sticker is subject to disqualification.